Several years ago, a colleague of mine and I were talking about pitching some business together to a potential client. It went something like this…
Doug: "Let's see if they're interested in our resilience and communication workshops."
Brad: "Yes, and… let's first find out who the decision-maker is and what issues they're having."
Brad would pause after saying "and" while using it in many of his sentences. I finally asked him why he was using "Yes, and…" when it felt like he was going to say, "Yes, but…" His reply changed the way that I think about almost every conversation I have, decision I want to make and what is possible for the future of our country.
So, I went looking for "and" when I realized there was a lot more to this word, so I did some intense thinking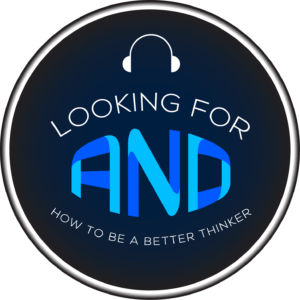 and started a podcast to enlist some very smart people to help me find it. To narrow the search and keep the podcast focused, I settled on three goals:
Improve our critical thinking skills – When I was a kid, I thought it would be cool to have a super power like x-ray vision or the ability to fly. Now, I want the super power of making great decisions and seeing life more clearly. Focusing on AND more often helps us avoid the 'disease of either/or' and be more open to different ways of thinking.
Begin depolarizing America – Does it feel as crazy to you as it does to me? I grew up in a country where Republicans and Democrats learned how to collaborate and compromise. Today, it's not uncommon for a politician or political pundit to refer to the competing party as "stupid" or "ignorant." We're better than this and my goal is to look for practical, achievable steps we can all take to start a revolution of civility.
Prepare for the future of work – I've read various estimates about the number of jobs that will be lost to AI and other forms of automation. Frankly, I'm scared for my kids and those younger than myself. We'll explore ways that AI can enhance our work and what new opportunities may arise.
And, we are launching with four great episodes, with a new show every two weeks:
As Brian Emerson said in Episode 1, "Everyone is accurate and everyone is incomplete." I hope that you get some clarity, new ideas and a reinvigorated hope for the future when you listen.